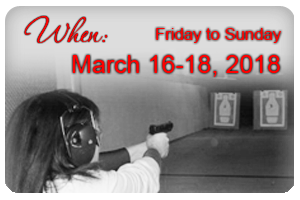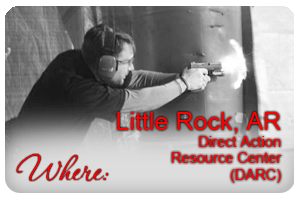 The conference schedule is now available!
Download the schedule.
The 2018 Tactical Conference is scheduled for March 16-18, 2018 (Friday through Sunday). This will be the 20th anniversary of Tac-Con, so we have lots of neat activities in store. We are very excited to return to the Direct Action Resource Center in North Little Rock, Arkansas. As always, there will be classroom seminars, hands-on training segments, and a live-fire tactical pistol match scheduled over all three days. The facility has multiple classrooms, firing ranges, and elaborate shoot houses, which will allow for concurrent blocks of live-fire classes, force-on-force scenarios, and classroom lectures (along with the pistol match). Participants may attend as many training blocks as time permits. All training segments, the pistol match, and a prize drawing are included in the entry fee. There are no other costs/fees.
The pistol match involves realistic scenarios and reactive mannequin targets that only fall when struck with solid, vital-zone hits. Target identification and discrimination are involved, along with shooting under stressful and realistic conditions. Only daily carry street guns and gear are allowed, and you will need about 100 rounds of ammunition.
This is a rare opportunity to take part in knife, empty-hand, handgun, emergency medical, and tactics training all in one location. The entry fee of $349 represents the best value for your training dollar in the entire industry. This event fills to capacity several months in advance every year, as space is strictly limited. So it's best to register as early as possible to avoid disappointment. There are two ways to register:
| | | |
| --- | --- | --- |
| | | |
| The easiest and fastest way to register is to complete and submit the online registration form.  Just click the button above and you'll be transferred to Rangemaster's Eventbrite page, where you can fill out the registration form, submit the liability waiver, and pay the registration fee all online.  You will receive confirmation by email. |   | If you would prefer to mail your registration form (or scan and email it), simply click the button above to download and print a hard copy.  The mailing address and email address are included on the form.  Your registration will be processed once payment is received. Please make checks payable to "Rangemaster Firearms Training Services." |
| | | |